Customer Reviews
08/03/2020
Jose W.
United States
I recommend this product
Awesome ! decal
for a first timer I thought it was pretty easy to put on the decals on my bike. the video helped quite a bit too. Love the way my bike looks
08/04/2020
Brave Wolf Customs
Thank you Jose! I'm happy to hear the video was useful and very pleased you like your decals! I appreciate your review!
07/11/2020
Smoothbassman
United States
I recommend this product
Modern Look on a Modern Machine
I was amazed at the quality of the graphic. This is a top notch print on some really good adhesive backing. It looks awesome once it's installed. I have gotten so many compliments on how sexy she looks with this new decal. Where I think this can improve is in the install process. The Indian Challenger Limited has the factory logos under the clear coat. Removing them would have been difficult. So I needed to install the decal over the top of the existing one. Giving us a bit more scale on the graphic vertically would be super helpful in getting it laid over much quicker. It's plenty long enough to cover, just not tall enough. It took me 45 minutes to line up the 1st side and I still didn't get it perfect. Took me just as long for the 2nd side and nailed that one as I saw where things went wrong on the 1st side and compensated for it on the 2nd side. Overall awesome product. I would buy it again.
07/11/2020
Brave Wolf Customs
Thanks for the review and the great photos of your Challenger! Sorry for the challenges installing them; it certainly looks like you got it figured out. These decals are designed for All Indian models, so I couldn't go overly large or Scouts couldn't use them. And that's why they're big enough for the Challenger but have to be aligned properly. Future state, I hope to be able to offer different sizes to you guys as we grow. Thanks again, enjoy that beautiful bike!
04/27/2020
Paul F.
United States
I recommend this product
High Quality Original Art Decals
These decals are beautiful prints of original artwork. They apply easily, look great, and are a bargain.
04/27/2020
Brave Wolf Customs
Thank you Paul! I appreciate your kind words and the awesome review!
04/06/2020
David H.
United States
I recommend this product
Helping Hand
I was on the fence on these decals, but after messaging the owner, I was given the best customer service and info on my Scout Bobber that I had to order. And I'm so glad I did; these decals are thick and high quality.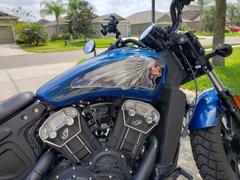 04/06/2020
Brave Wolf Customs
Thank you so much David! I appreciate the review of our decals and I'm very happy to hear you appreciated the service. Feel free to reach out at any time brother!
03/04/2020
Mark S.
United States
I recommend this product
Great Product, back for seconds just for insurance.
Jason, install was easy and end result was fabulous. Quality materials. You have to touch it to realize it isn't airbrushed on. Simply gorgeous. It has made my Indian even more special. Already getting compliments on them and people wanting to know where I got them. You will be getting a lot of good plugs I think. I learned long ago in life, if you come across a product that really impresses you, you better buy more so if you ever need or want again you have it. Hence my second and duplicate order of a NIZHONI set. PS: I just received my second set and it is in good condition also. I was pleasantly surprised by your adder. Those little darlings are going on my truck. Just don't see that type of thing today. Above and beyond. Above and beyond. No buddy, YOU ROCK. I will try to send pix.
03/05/2020
Brave Wolf Customs
Absolutely love and appreciate your review Mark! Thank you so much for taking the time to share your experience and the beautiful photos. Man, that's an awesome bike!